Otmars' picture gallery
Click on images to see the full size pictures or a page on the project



Years ago, I built a electric parade horse. It's drives just like a real horse except that it accelerates when you pull on the reigns and stops (regen braking) when you let go. This picture of me riding it in a 4th of July parade in Friday Harbor was on the front page of the Seattle Times.
The horse no longer lives, it's been dismantled since the early 90s.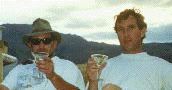 Richard and Jim enjoying martinis on the Electric Loveseat at Burning Man 97.I built the Electric Loveseat as cool trasportation at Burning Man, as well as for racing with a local group of "Fast Furnature" enthusiasts. The Loveseat was dismantled in 1999 after 5 years of unreliable but fun service.
More info on the Loveseat here

In 2000 it was replaced with the "Ultralight Loveseat" Not as fast but much easier to transport. That was then that was replaced by the "Adult Trike" in 2002 which is even slower but had much more style: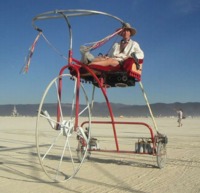 Another picture of the "Adult Trike" can be found here: Parking Ticket


Click here for the Stretch project
One VW camper not big enough? Make it bigger!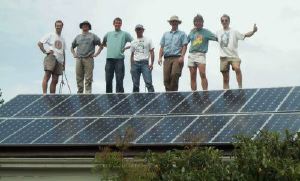 Solar panels on my roof providing electricity:
(Actually that was back in California, I'm in Oregon now)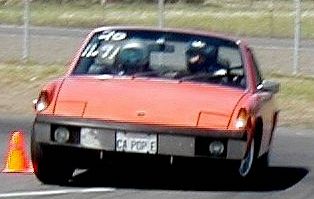 To charge my Electric Vehicle


I flew Hang gliders in the past, but my latest type of flying is with small planes, someday I hope to make a battery electric airplane.
For now you can read about my flying here.

2007: Aside from trying to catch up on Zilla Orders, my latest EV project is the Honda Insight.
I only have some conversion pics here, you'll have to guess on the details.
(For when you see the EV-1 motor, don't ask me for a AC Zilla, I'll just be rude and tell you to go away, I will serve no controller before its time.)


To contact me click here

Last update 6.12.7
EVCL Home page