The Donors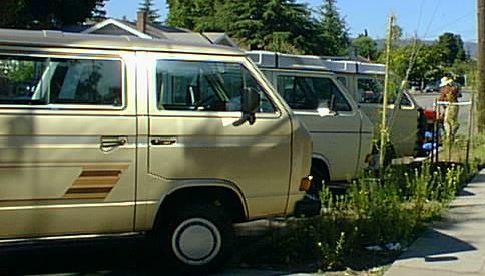 Hmm, how about a triple?
The back half arrives:

It was Friday afternoon when Jay called me. He said he was ready to empty his driveway of the 82 diesel Westie that has been sitting there for the last 3 years. The catch was that I had to pick it up within two hours since he would be leaving for the weekend. I grabbed the electric S-10 and zipped over there with my houseman Kent and a tow rope. We agreed on a deal for the Westie including a couple six packs of beer and a promise to give him use of the finished stretch for a week long desert trip.

The Westie was sitting in the driveway that sloped to the street. We figured on just pushing it out into the street to hook up the tow strap. It wouldn't budge. What's this? The tires were only half flat, it ought to roll. So we hooked up the truck to pull it into the street. 600 amps on a 9" in first gear only dragged it a bit. It seems the right rear brake was stuck. Well, I've heard of this happening, never had it happen to me before, but I know the fix. We found a hammer, banged on the brake backing plate and the bus promptly rolled.

The 3 mile tow home was uneventful despite the rush hour traffic. For those who have never experienced it, electric cars are super rope towing vehicles. They are quiet so you can talk between cars, smooth so the rope stays taught, and they have lots of torque. I figured it appropriate that this bus, which will be half electric someday, made it's first trip with me on electric power. The picture is of the arrival at my house. In the background is Chris's 82 Westie with a 1.8 Wabbit engine.


A Syncro for the front:

Many thanks to Randy of Randy's VW stuff in Colorado for finding a Clean 86 Syncro and a great deal for me! I flew out to Denver and drove it back. It's not white like I had wanted. I was having such a tough time finding a white one which I could afford that I decided to get any color and then paint the stretch inside and out when it's done. One side benefit of this is that it should end up looking very nice. One disadvantage is that I'll then probably start worrying about getting desert pin striping when I'm off road.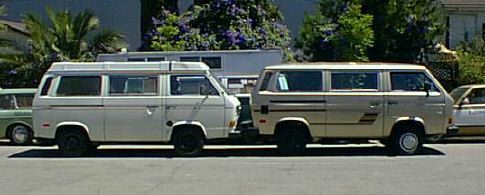 They look kinda short to me now. I guess I'll never look at a Vanagon in the same way!